Homepage / An innovative concept
An innovative concept
A reply to the challenges of today's and tomorrow's building industry
Our world is in a permanent evolution : changing ways of living, social order, economic systems, global warming …
In this context, CUBIK-HOME modular housing brings appropriate innovative solutions.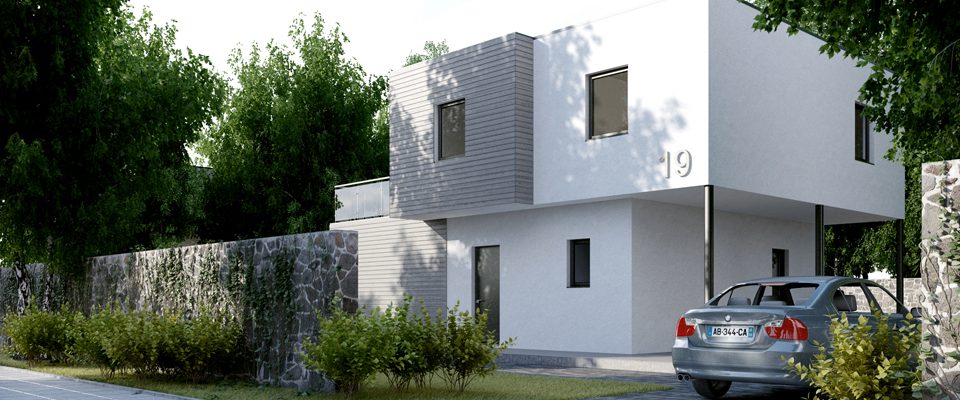 MODULATE YOUR LIVING SPACE
A modular concept designed first of all for its occupants.
CUBIK-HOME gathers all kinds of advantages, but the designer focused in the first place on the occupants.
With the modular housing model, we can meet the very diverse needs within a precise and efficient pattern. Whether you are dealing with private houses, collective housing, business premises, you just have to assemble the modules into the ideal architecture.
Scalability and everyday's comfort
With CUBIK-HOME, you can also have your home easily evolving over the years : adding or withdrawing a module to extend or reduce your living space becomes a simple matter.
Thermal comfort is ensured by an insulating complex with higher standards than those currently applicable, but also with the possibility of installing wide picture windows at well-chosen places.
Lastly, because our home is part of our intimacy, the possibilities for fitting arrangements and visual customization are unlimited, outdoor as well as indoor.

SIMPLIFY CONSTRUCTION
A simple and well-regulated off-site building process, for more tranquility and reliability.
The prefabrication of modules within specialized factories that hold the CUBIK-HOME know-how guarantees a controlled production.
The quality of construction of the modules is ensured by controlled industrial processes and materials. The technics applied by the precasters reduce the building costs compared to those of a traditional construction.
The works are totally mastered, right up to the finishings, including delivery and setting out of the modules on the land of destination.

CONTROL THE ENVIRONMENTAL IMPACT
The environmental footprint of construction globally taken into consideration
The building industry nowadays leaves a heavy environmental footprint, during the construction phase as well as in subsequent use. All kind of pollution, over-exploitation of resources, damages engendered on worksites, energy strainers…
CUBIK-HOME right from the start integrated these vital issues in its design specifications with realistic sustainable answers.
30% less concrete
Thanks to its exclusive technology, CUBIK-HOME uses 30% less concrete and thus saves natural resources, but also energy during production. And the construction remains long-lasting and extremely resistant.
Energy-saving for the occupants
The top insulation quality of the modules results in high energy-saving buildings.
Building sites with low disturbance
Off-site production reduces the working time on building sites and thus limits damages and waste.
A second life for housing modules
As the modules are designed to last for a long time, they may be eventually re-used in other contexts.
CUBIK-HOME does not necessarily need deep foundations. The modules can be laid upon purpose-made studs, piles or beams. Once removed, the ground does not suffer from deterioration as it would after pulling down a traditional house.