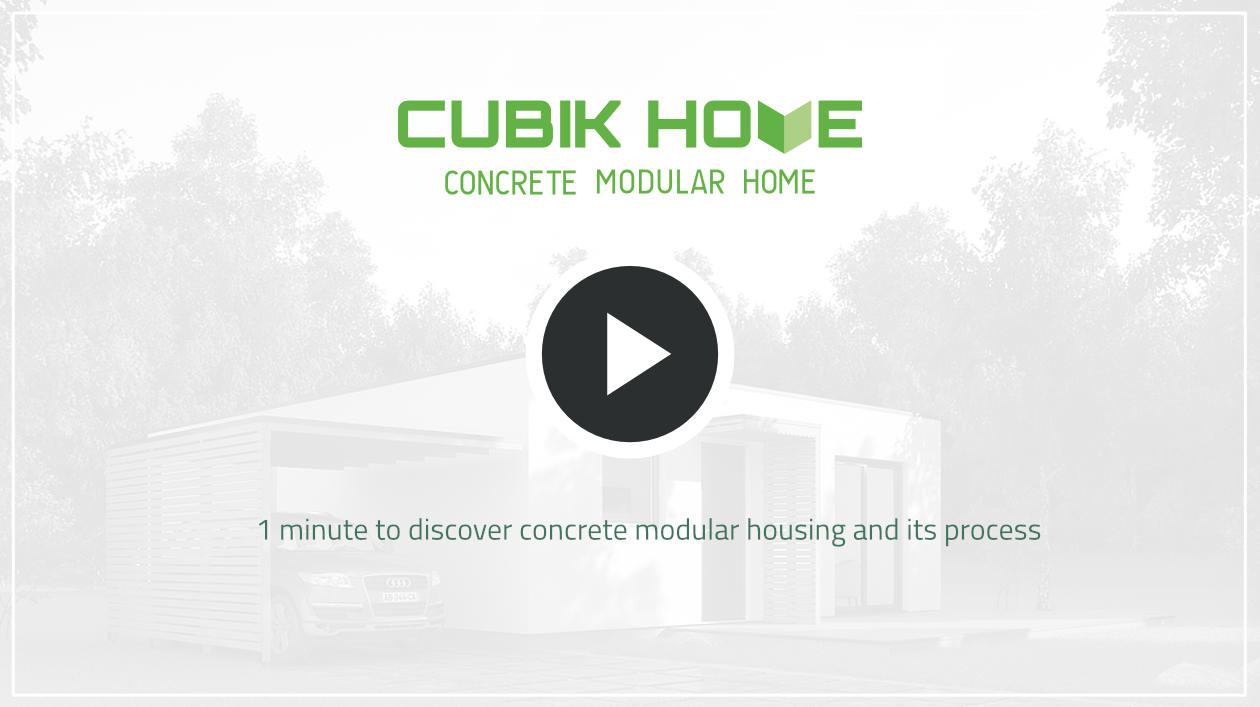 The concept
An answer to the challenges of today's and tomorrow's construction.
The CUBIK-HOME process gathers a wide range of benefits for all the actors of the building industry.
Off-site construction
Each CUBIK-HOME module is built in a prefab plant with the unique process we have perfected. This building method offers advantages:
– a high speed building process
– a controlled, regular quality
– a limited cost of production
– a safer and cleaner building site, run over a shorter time
An innovative concrete process
The CUBIK-HOME manufacturing process lies in the use of an exclusive concrete with embedded metal fibers providing:
– very high strength and durability
– around 30% saving in raw materials, therefore a lower cost and a lower ecological impact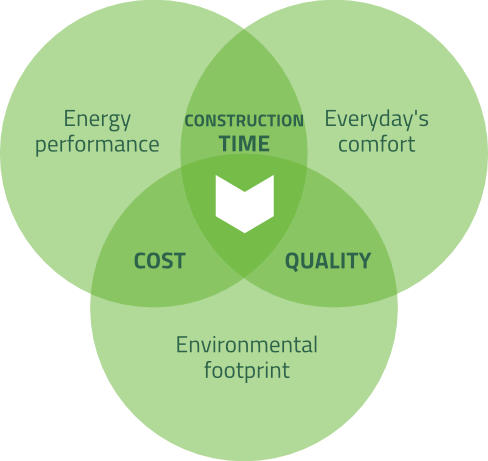 A modular concept
CUBIK-HOME is above all a modular construction concept, offering many benefits :
– a great number of possible patterns for assembling the modules
– an infinity of possibilities for customizing finishings and visual details
– a reversibility of use, which means that the modules may be eventually used again in various contexts.
The technology
New ways of building with CUBIK-HOME
CUBIK-HOME developed in France a worldwide unique technology. The principle lies in precasting concrete housing modules in a specialized factory. These modules are then transferred to the building site, where they are assembled and then equipped and decorated according to the taste and needs of their future occupants.
The fiber concrete technology, embedding BEKAERT metal fibers DRAMIX , gives the modules unrivalled resistance and durability:
– modules can be laid horizontally side by side or vertically on top of each other up to 3 levels
– resistance to bad weather, storms, hurricanes
– resistance to earthquakes
– resistance to accidental impacts
The design of the modules, with an embedded 18cm thick insulating material, confers excellent energy performances (RT 2020) for a comfortable life.
Cubik home safety cube, tornado, hurricane typhoon
CUBIK-HOME resistance demo on video
CUBIK-HOME anti-earthquake and anti-tornado properties on video
Ecosystem
A developing ecosystem, gathering specialists of the building industry
Around CUBIK-HOME technology, many actors find their place within the modular construction system. From the prefabrication in factory up to the fitting-out stage, including designing and marketing, the CUBIK-HOME ecosystem is aimed at federating a solid and coherent off-site network.
Industrial partners
Precasters find a new market and new applications, making good use of their know-how and of their existing machines and equipment.
CUBIK-HOME transfers its technology within the concrete prefab plants under license. CUBIK-HOME supplies its additive to be incorporated into the concrete to upgrade it to the required technical specifications. CUBIK-HOME accompanies the factories through many specific services.
Commercial partners
CUBIK-HOME offers a structured model and connected services which can be leant upon.
Real estate developers, architects, council estate owners, private house builders… Our concrete modular housing is up to your stakes, meets your requirements and offers you many advantages.